General Thomas Ewing was born in Lancaster, Ohio, 7 Aug. 1829. He was the son of the Hon. Thomas Ewing and Maria Wills Boyle and grandson of George Ewing and Rachel Harris. (Click on photo to see enlarged version.)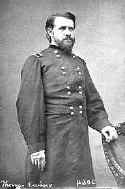 The Twentieth Century Biographical Dictionary of Notable Americans: Volume IV, says the following about General Thomas Ewing:

Thomas was educated at Brown university, leaving college to act as private secretary to President Taylor, 1849-50. He then studied law and practiced in Cincinnati, Ohio, 1852-56. He was married. Jan. 18, 1856, to Ellen Cox, daughter of the Rev. William Cox of Piqua, Ohio. He removed to Leavenworth, Kan., in 1856, was a member of the Leavenworth constitutional convention of 1858, and was elected chief justice of the state in 1861. He was a delegate to the peace congress of 1860, and resigned his judgeship in 1862 to recruit the 11th Kansas volunteers of which he was elected colonel, and with his regiment fought in the battles of Fort Wayne, Cane Hill and Prairie Grove. For gallantry at Prairie Grove he was made brigadier-general, March 13, 1863. He checked the invasion of Missouri by General Price in September-October, 1864, by holding Fort Davidson, at Pilot [p.26] Knob, Mo., with a force of 1000 men, against the repeated attacks of the Confederate army, and successfully retreating to Rolla, Mo. He was brevetted major-general of volunteers in 1865 for his services during the war. He practiced law in Washington, D.C., 1865-71, and at Lancaster, Ohio, 1871-81. He was a member of the state constitutional convention of 1873-74 and represented his district in the 45th and 46th congresses, 1877-81. He prepared the bill establishing a bureau of labor statistics, opposed the presence of U.S. soldiers at polling places, and favored the remonetization of silver and the continuation of the use of greenback currency. He was an unsuccessful candidate of the Democratic party for governor of Ohio in 1879, and at the close of his term as representative in congress, March 3, 1881, he resumed his law practice, making his office and residence in New York city. He was founder and first president of the Ohio Society of New York; a trustee of Ohio soldiers' and sailors' orphans' home, 1874-78; of the Ohio university, 1878-83, and acted as vice-president of the Cincinnati law college in 1881. He made a notable address before the Marietta centennial convention of 1887, and one before the Kansas state bar association in 1890. He also contributed to the Cosmopolitan in May, 1894, "The Struggle for Freedom in Kansas." Brown university, by special vote, in 1894, gave him the degree of A.M. in 1860 with the class of 1856, and Georgetown college, D.C., gave him the degree of LL.D. in 1870. He died in New York city, Jan. 21, 1896.
The following was printed in the "Bench and Bar of Ohio, " issued December, 1897: "Though General Thomas Ewing removed to New York about fifteen years ago, he resided still in the warm affections of the people of Ohio. His death will be mourned in every community in which he ever lived. Thomas Ewing was an ideal gentleman. Handsome in person, easy and gracious in manner, and lofty in his ideals, he made a deep impression on everybody he met. He was a gallant and effective soldier, an able lawyer, a sincere statesman, and a politician who set a high moral example in the practice of politics. He was worthy to be the son of the eminent Thomas Ewing of old, whose name is inseparably woven in the history of Ohio and the administration of national affairs."
For more information about General Thomas Ewing and his family, go to Descendant Names.

The General Thomas Ewing Family (click on photo to enlarge)
Left to right: Thomas Ewing III (b.1862), Maria Ewing, Ellen Cox Ewing (1833-1879), General Thomas Ewing
(1829-1896), Hampton Denman Ewing (b.1866), Mary Beall Ewing, and William Cox Ewing.